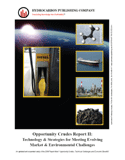 At a time of volatile oil prices and crude supply uncertainty, many refiners around the world are again turning their attention to relatively less expensive, unconventional or opportunity crudes (opcrudes). Opcrudes generally include heavy sour grades, oilsand/bitumen, extra heavy oil, high TAN crudes, and oil shale. Refineries without a capability of handling opcrudes will lose out to the competition in the long term.
Why? There are four major reasons.
Political upheaval in the Middle East and North Africa in early 2011 has sent a wake-up call to refiners that crude diversity is the key to business sustainability. Recently lofty oil prices caused by a threat of economic embargo against Iran confirms this call for securing and diversifying crude supplies.
Weak fuel demand compounded with rising oil prices since 2010 have devastated refining margins of many less sophisticated, crude-constrained refineries in the US and Western Europe resulting in plant sales or closures. On the other hand, coking refineries processing Maya heavy oil consistently outperform cracking refineries handling light sweet Brent crude, based on historical data.
Fossil fuels remain the predominant energy source as developing countries with growing population and expanding economies like Brazil, China, and India continue to drive up global demand despite increasing use of biofuels and higher vehicle fuel efficiency.
The world has significant opcrude deposits with a 5 to 1 reserve ratio of heavy crude oil and natural bitumen to conventional crude oil.
However, securing supply of opcrudes is not the end-game and cannot guarantee healthy margins as discussed in the published report. Fuel market dynamics have shifted and environmental regulations have been tightening since we published the first, authoritative opportunity crudes study in 2006.
We have identified critical drivers behind the success of processing opportunity crudes to 2030. This 1400+ page, comprehensive report is well researched and analyzed, providing details of the technologies and strategies refiners can deploy to improve profitability and sustain business goals when processing opcrudes. The study also includes a global survey of oil companies' perspectives.
If you are interested in learning more about this publication, please contact us.