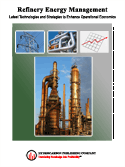 The global refining business is pressing forward in a difficult operating environment in which only the best, most sophisticated refineries will be profitable. Complex refineries are considered the ones that can buy the cheapest feeds and convert them into the products the market wants using the most cost-effective processes in the near term with a long-term operational strategy. The cost factor is the key in maintaining profit margins.
According to the US Energy Information Administration (EIA), energy usage represents more than 40% of the overall refinery operating expense, excluding crude purchases. A recent Concawe study indicates that EU refineries currently spend about 60% of their cash operating costs on energy, and the figure has been doubled for the last two decades due to rising energy costs, increasingly tight fuel standards, and higher refinery complexity. Therefore, it is important to identify technologies and strategies for reducing energy consumption.
Our report presents the most comprehensive view of the areas where refiners can improve energy efficiency in both utility providers (such as heat, steam, and hydrogen) and energy consumers, i.e. processing units. Detailed discussions and analyses focus on:
Major drivers for energy efficiency
Energy management programs currently being implemented by the refining industry, including results of a direct survey of refiners worldwide
Sources of refinery energy inefficiency in utility providers and likely solutions
Improving the energy efficiencies of CDU, delayed coker, visbreaker, hydrotreater, hydrocracker, FCCU, catalytic reformer, and alkylation unit
Central role of energy management that connects profit margins, asset management, and compliance to environmental regulations
Case studies with recommendations based on budget constraints and refinery configurations
If you are interested in learning more about this publication, please contact us.