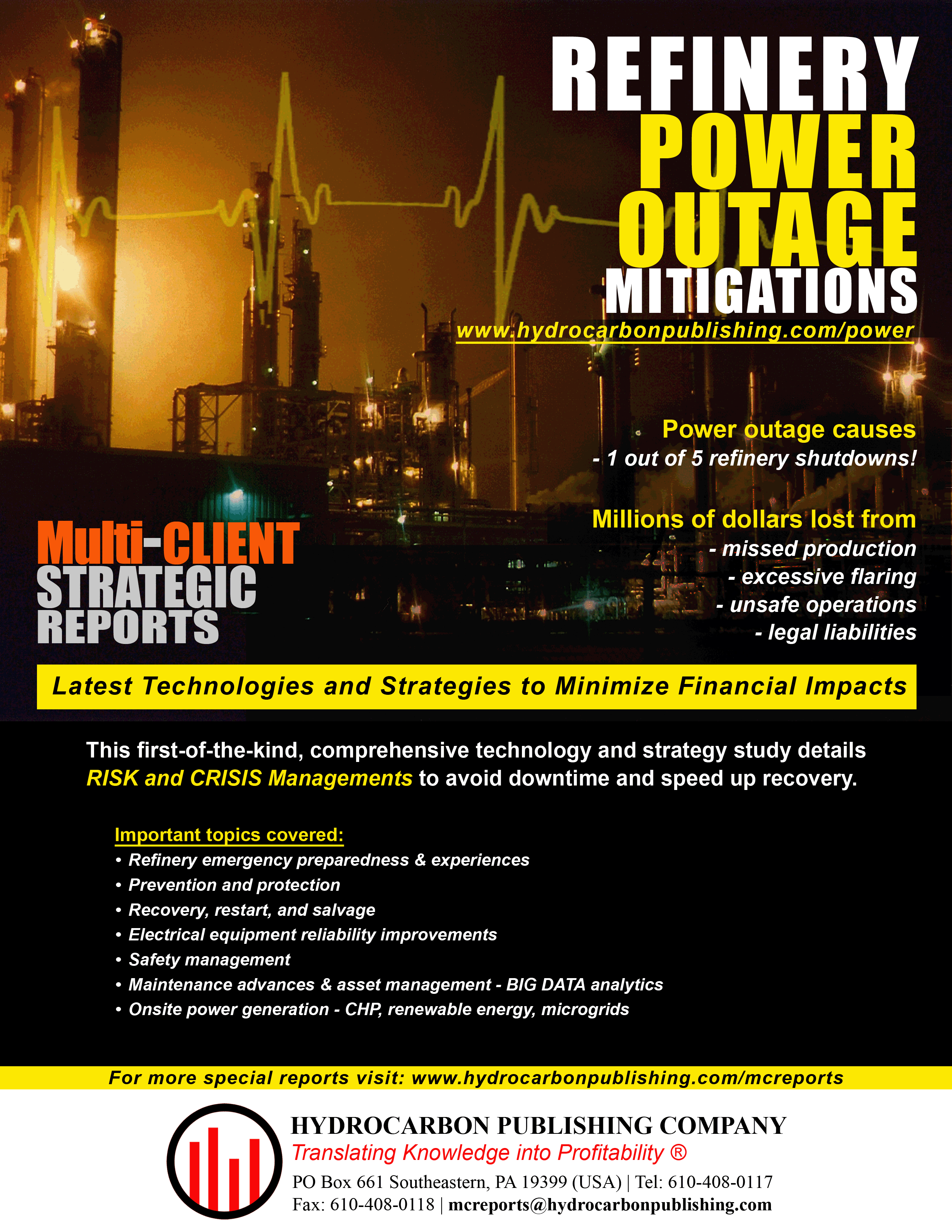 Unplanned refinery shutdowns hit company earnings two ways: lost production and potential liabilities for excess flaring and unsafe operations.
In the US alone, there were over 2,200 refinery shutdowns between 2009 and 2013 according to the Department of Energy, and at least one out of five were caused by power supply disruptions and electrical equipment failures. That's why our just published report is devoted to helping refiners minimize plant interruptions, particularly due to power outages.
The study identifies and analyzes causes of power outages, evaluates the latest prevention techniques and advances in improving electrical equipment reliability, and recommends strategies based on risk and crisis managements to avoid downtime and speed up recovery. Refiners need to minimize operational risks and alleviate the impacts of the crisis so that the incident will not become detrimental to the whole company!
What is the financial cost, and beyond
The cost of missed production for a US refinery with an average-sized FCCU of 80K b/d will range from $340K a day at profit margins of $5/bbl to $1.7MM a day at profit margins of $25/bbl, based on a conservative estimate. Furthermore, a rapid shutdown will increase the danger of mechanical damage requiring costly repairs. Unit shutdowns and restarts are also known to reduce energy efficiency.
Excessive and prolonged flaring will create environmental concerns, incur fines by environmental agencies, and cause public nuisance that may lead in civil lawsuits. Emergency shutdowns because of power failure can also pose safety issues. From the business point of view, missed shipments to retail outlets at a time of strong demand will cause a price surge at the pump resulting in public outcry and possible governmental investigations. Undoubtedly, both environmental and retail price issues will generate negative media coverage and damage a company's public image.
How to mitigate power outages?
This first-of-the-kind, comprehensive technology and strategy study discusses near-and long-term approaches covering
Prevention and protection;
Recovery, restart, and salvage;
Refinery emergency preparedness and experiences;
Electrical equipment reliability improvements;
Maintenance advances and asset management; and
Safety management; and
Onsite power generation.
If you are interested in learning more about this publication, please contact us.