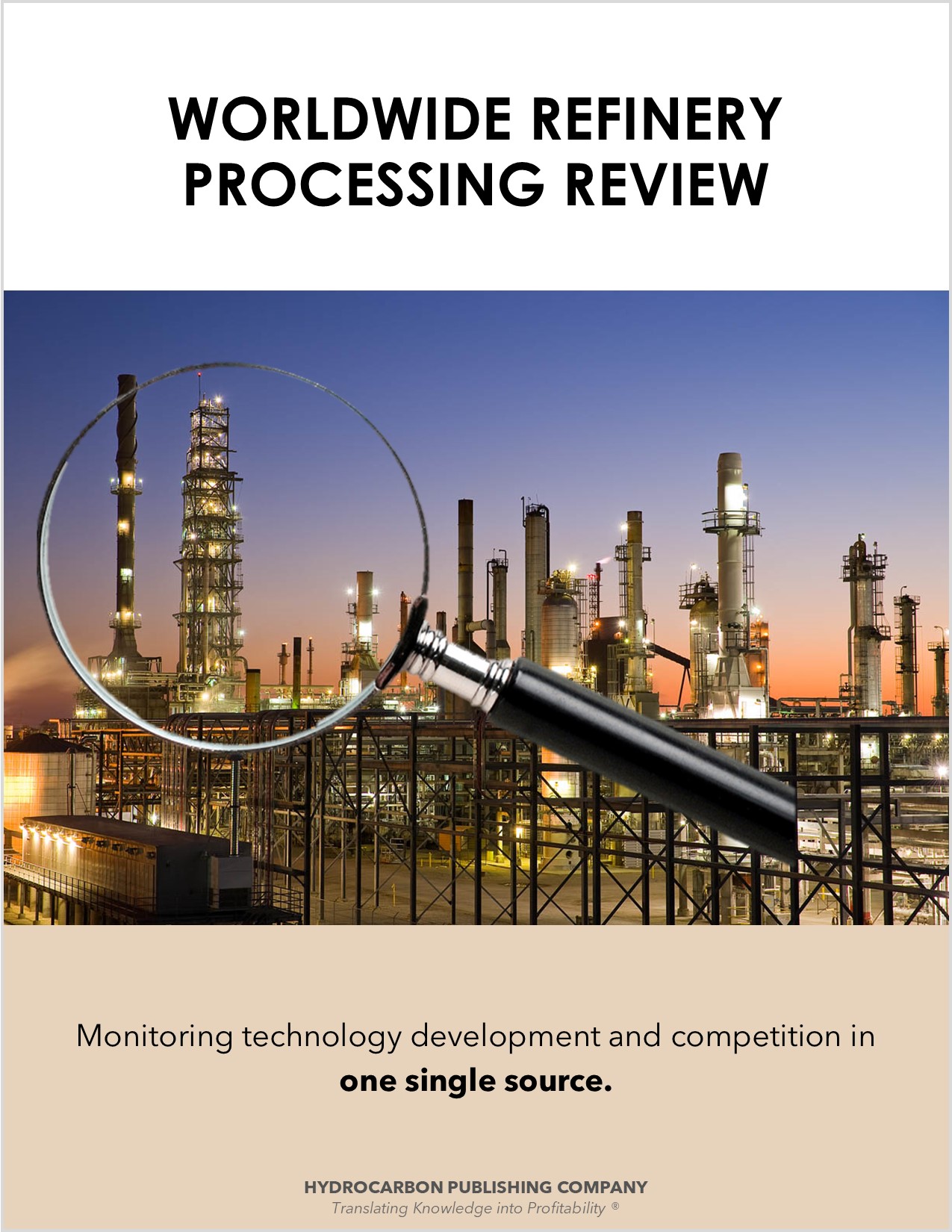 Catalytic reforming transforms naphthenes and paraffins into aromatics and isoparaffins. This process serves two main objectives in the refinery: production of high-octane reformate for gasoline blending and production of high-value aromatics for the petrochemical industry. Straight-run naphtha from the crude unit is the most common feedstock, but gasoline-range streams from catalytic crackers, hydrocrackers, cokers, and visbreakers can be routed to the reformer to increase octane.
Despite a decrease in gasoline demand, there are opportunities for catalytic reformers to shift operations and take advantages of current market opportunities, namely increased production of aromatics. In addition to benzene and xylene, reformate also contains toluene and heavier aromatics, which can be converted to benzene and desired xylenes via hydrodealkylation, disproportionation, transalkylation, isomerization, or alkylation.
Newly patented catalysts and processes for maximizing the production of aromatics demonstrate the efforts to seize the opportunity for increased profits through catalytic reforming. Some refiners are also opting for integration with a nearby PC plant to boost aromatics output. The catalytic reformer becomes the "passageway" that takes in hydrocarbons from the traditional refining units and provides feedstocks for the aromatics complex, which mainly serves to recover benzene and paraxylene via separation units, but is also capable of recovering less desirable BTX components like toluene, ortho-xylene and meta-xylene.
Refiners are also focusing on maximizing hydrogen production from catalytic reformers due to greater hydrogen demand as more stringent fuel specifications are put in place necessitating greater hydrogen use in hydroprocessing units to meet these ultra-low requirements. Reformers supply considerable amounts of hydrogen needed for hydrotreating, hydrocracking, and isomerization.
Companies also continue to focus their research efforts on achieving reforming catalyst performance benefits such as improved activity, selectivity, stability, and resistance to carbon deposition. Commercial products have been offered and novel innovations have been introduced that aim to mitigate reforming unit corrosion and fouling concerns. And, finally, recent research work has detailed new processes, systems, and configurations designed to provide energy savings in catalytic reforming.
Additionally, the catalytic reforming section features the latest trends and technology offerings, including:
Updated gasoline supply and demand fundamentals including the recent impact from COVID-19, the rise in aromatics demand that has led to more integrated refinery and petrochemical complexes, and the impact of fuel specifications, the processing of heavier feeds, and the IMO sulfur cap on hydrogen demand;
Methaforming developed by New Gas Technologies-Synthesis using methanol or ethanol co-feed;
Low-density Symphony PS 110 and the high-density Symphony CR 157 and Symphony AR 151 CCR catalysts offered by Axens;
Axens Symphony PR 250, Symphony PR 256, and Symphony P 252 fixed-bed catalysts, which offer activity and stability benefits;
Avantium's technology and testing services for catalytic reforming catalysts;
AxTrap 800 series of adsorbents from Axens for hydrogen chloride and organic chloride removal;
Clariant's ActiSorb sulfur and chloride guards;
Honeywell UOP ChlorideGuard System for monitoring chloride adsorbent beds in real-time;
Johnson Matthey's PURASPEC CLEAR PERFORM, ARMOR, and PURASIEVE products for chloride removal from gaseous and liquid hydrocarbon streams and PURACARE onsite chloride monitoring kit;
Advanced process controller created by Bharat Petroleum Corp. Ltd.'s Mumbai refinery for the reaction section of CCR units; and
A discussion of the latest patent applications and research papers regarding catalytic reforming technology, including process and catalyst innovations specifically for aromatics production; a catalytic system and a method for increasing reformate yield; the use of various carriers in novel catalyst compositions; feed and product treatment; new reactor and catalytic reforming unit designs; various processes and systems designed to provide energy savings; and more.
Publication details
Publication frequency
Single publication
Publication format
Adobe Acrobat (.pdf) file
Purchase
Purchase Publication
Interested in purchasing a copy?
Order now
.